I haven't posted in a long, long time. And I've realized this update will never be all that it should. But I sense a great responsibility to let you know the rest of the story. You can assume the silent months were full of lessons – what they are I have yet to comprehend completely. I likely never will. Life can be like that sometimes. I'll sum it up with this: it got really dark after I posted about our second failed adoption. Grief, pain, sickness, "no" after "no" after "no" – the suffering seemed to have settled upon us. But somewhere along the way, there was hope. I know we aren't the only ones with a hard story. I know others have hurt deeply and maybe some are even reading this blog in the midst of difficulty.  Hear this: GOD IS GOOD. He is faithful. He is worthy of our trust. And He loves us. I know that more deeply than ever. And if nothing else I have learned I can do nothing, no nothing without His help. With that in mind here's the next installment of our story…
April 8th we got an email saying that a baby was being born in Florida in an hour and would we like to present our family? I immediately said yes, called Zach to say, "we said yes", and went about sending the necessary paperwork and our profile electronically. As I was talking to this agency over the phone (it was one we had NOT applied to, but we heard of the situation from our consultant, Susan) the social worker said she was having a hard time printing our profile. And then she said she thought the birth mother was looking for a family with no kids or maybe one kid. "Oh, we're out," I said. "I don't want to overwhelm her and I want to respect her wishes, you could just take our profile out."
"If you don't mind, I'd like to keep you in," the social worker said. "You never know." They were going to present profiles that night and let us know how it went the next day. The trouble with printing our profile persisted and I asked where in Florida their agency was located. They happened to be in the same county as another agency who DID have a profile of ours. I have no idea how God orchestrated getting those books in the right hands, I just know He did.
The whole next day I kept thinking of the story of Moses and the Israelites in front of the Red Sea and prayed, as many times before, that God would fight for us while we kept silent. And you know what? He DID. And this time it meant that SHE CHOSE US. I was in the middle of the Gap outlet wondering around not really looking at anything when my phone rang. It was our amazing consultant, Susan, calling to say "she chose your family". Unbelief, utter amazement, and thanksgiving. I crumpled to the floor and began to weep. That's where my sister found me, alarmed and a bit worried until I choked out, "It's a yes! She said yes!"
This picture was taken after the birth momma signed. It was the first time we saw his face. A sweet baby boy in Florida, his brave mother and plans too complex for us to understand.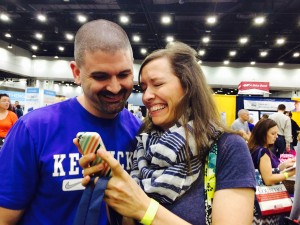 The baby was in the NICU due to a meconium aspiration but it wasn't until we arrived in Florida that we realized how sick he was. We assumed he'd be in the hospital for 7 days and then we'd wait out ICPC (paperwork to cross state lines) and then we'd finally get to bring our son home. I'm glad we didn't know what was in store. It was six weeks, 2 different NICU's, 3 trips to and from Florida, dozens of nurses and doctors, I lost count of the chest x-rays, SO many hours of praying, fretting, praying and more fretting. It was ridiculously hard. And all the while fear was crouching near and whispering threats. "This isn't really your baby. I know the risks are small but you've seen what happens with small risks. At the last second God is going to take him away from you as He's done the previous two, just wait." I hate to admit how fragile I was…er…am. But it was there ALL the time.  If not for family and friends praying for us I'm convinced we wouldn't have been able to hold on. Again, I know our NICU stay wasn't so bad in comparison. 6 weeks by some standards isn't really that long. But that just tells you how weak we were.
Seeing him for the first time was unbelievable. Even now that he has been in my home for a total of 71 hours  – I am in awe. Shocked, almost. I think we're deliriously happy. Well, we're delirious for sure. Exhausted and thankful. I couldn't possibly put into words what we're feeling. But every now and then Zach and I will catch each others eyes and just stare at each other. It happened. It really happened. A son. A son. We have a son! He is still healing from the insult the meconium took on his body and I am daily trying not to stress about his heavy breathing and occasional wheeze. But he is here. When I read the word "adopted" from the bible my heart won't hurt because our baby isn't with us, it will hurt because his is! Because of his birth mothers selfless decision we gained a new child to our family. I will never get over that. The rest of my days I will contemplate the breadth of that incredible decision. It wasn't easy for her. When we met her she cried tears of joy and worried that he might not understand her choice. We hugged her hard. "He will know you love him," we assured her, "because we're going to tell him."
God met us in so many ways during this last part of our journey – just as He had in the other parts. Buddy passes, all of them but two, from the same generous person who was rooting for us the whole time. A hotel across the street from the first hospital that gave us an amazing rate and when I came back by myself gave me a night for free, because the manager was adopted. Our first nurse didn't waste any time before she said, "I just love adoption, it's such a picture of God's love for us." I can't make this stuff up. Of the nurses we had one was adopted, two had adopted children, and another had a family member going through the process. After the transfer to a different NICU there was a Ronald McDonald house where I stayed for free. Every bit God gave I hungrily took and begged for more. I pouted and threw fits, I clung to truths like Psalm 40 and Isaiah 25. I shared every fear with God and wondered even up till minutes before he was released to go home with us if they'd let him leave. But he did! And the redemption that we prayed for? It came in so many ways. We slept in a hospital bed in the room next to our beautiful birth mother for our first baby who was stillborn last June. We slept in one with this baby, too, but life was next door. As a matter of fact, this baby was being knit together as we grieved the first son we lost. Familiar places we visited and stayed for our bleak trip to Florida last October had much different meanings this time. We finally got to use the car seat, the clothes, the diapers that we'd been collecting. The name we'd been saving for years? It means "God Redeems". That, my friends, is God's amazing grace.
Ladies and Gentlmen, meet Isaiah Wade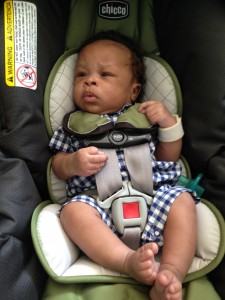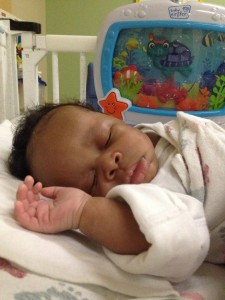 He's even more beautiful in person, I assure you.
Many of you feel the weight of this because you walked so closely with us. Believe me, we feel the pull with you. You share in the joy of his homecoming because you fought in prayer, some of you in tears for us. We will never get over that. We are so excited to celebrate his arrival with you over the coming months, but even more, the God who provided it.
"O Lord, You are my God; I will exalt You, I will give thanks to Your name; for you have worked wonders, plans formed long ago, with perfect faithfulness."
Isaiah 25:1
More to come, but for now you can just bask in how gracious God is.